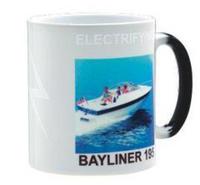 Wow Mug
Wow Mug..

The Wow Mug is like nothing you've ever seen before...

The entire mug coating changes to clear when hot liquid is added...revealing your image underneath.

Can be overprinted in white so your message stays up front all day.

Available on Colonial White & A'Flare White, Colonial White/Black or White/Cobalt, Colonial Cobalt & Black mugs only.

Product code: Wow Mug
Minimum purchase: 36