Catalogue » Desk Clocks » Bendy Man LCD Clock/Message Holder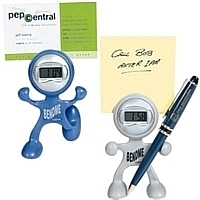 Bendy Man LCD Clock/Message Holder
LL2279s Bendy Man LCD Clock / Message Holder

LCD digital clock with alarm.
Adjustable second count down timer.
Flexible PVC body.
Adjustable clip that holds messages, business cards, menu sheets, and place cards.
Packed in a clear Pet box.
Item suits 1 colour print only.
Black or Navy print recommended on Grey Bendy Man and White or Silver print recommended on Blue Bendy Man.
COLOURS: Grey or Blue.
ITEM SIZE: 60mmL x 100mmH.
PRINT AREA: Back of head silver section - 30mmL x 10mmH. Front of head silver section - 20mmL x 6mmH. Chest section - 18mmL x 14mmH.


Product code: LL2279s
Minimum purchase: 100