Catalogue » Desk Items » Note Holder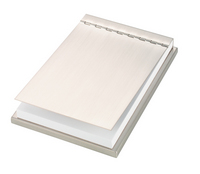 Note Holder
All time favourite metal note pad holder and pad.
FEATURES
Metal Pad Holder Size: 105mm x 150mmPad Size: 145mm (H) x 96mm (W) x10mm (D) to Perforation 127mm (H)
PRODUCT SIZE 105mm(w) x 150mm(h) x 20mm(d)
DECORATION AREA 85mm(w) x 110mm(h)
PACKAGING Two part Black gift box, moulded inlay. Poly bag, tissue wrap.

Product code: 8956
Minimum purchase: 100