Catalogue » Desk Items » Gymnast Clips On Magnetic Base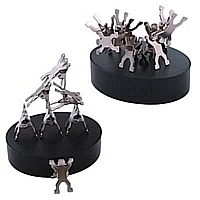 Gymnast Clips On Magnetic Base
The ultimate desk top accessory.
Eight nickle plated man shaped paperclips clips (holds notes etc) can be stacked to make desk sculptures on a oval black base.
Great stress reliever.
Can also be used as a paperweight.
Silver print recommended.
CAUTION: Magnetic Product - do not place within 30cm of an electronic product or media.
COLOURS: Black base, Silver paperclips.
PRINT AREA: 50mmL x 12mmH.
ITEM SIZE: Base – 90mmL x 24mmH, Each Clip – 15mmL x 30mmH.




Product code: LL2577s
Minimum purchase: 100