Catalogue » Environmental - Green Products » Rubber Tipped Newspaper Print Recycled Pencil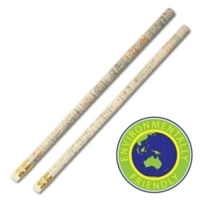 Rubber Tipped Newspaper Print Recycled Pencil
Lead rubber tip, unsharpened pencil. Made from Recycled Newspapers. Newspaper copy lightly printed on case - White with Black/Red copy.
Black print recommended.
AS NEWSPAPER PENCILS ARE PRINTED AT CHINA FACTORY VARIATIONS IN COLOUR, SMUDGES & DESIGN WILL OCCUR AND IS CONSIDERED ACCEPTABLE. VIEW SAMPLES BEFORE PLACING ORDERS.
COLOURS: White with Black/Red newspaper copy print.
ITEM SIZE: 185mmL x 8mmD.
PRINT AREA: Roll Screen Print – 110mmL x 20mmH.



Product code: LL78s
Minimum purchase: 1000