Catalogue » Confectionary » Confectionary in Pillow packs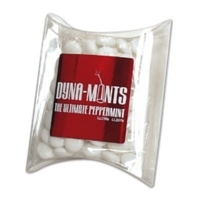 Confectionary in Pillow packs
Confectionary in 60 gram cello bags inserted in clear PVC Pillow pack.
Ideal for shows, trade fairs, events, thank you's, gift with purchase, table gifts at breakfasts & dinners, Christmas & Easter gifts.
Foil printed one colour on white round or square labels on front of pillow packs (note – foil colours only not PMS).
Consider a solid foil print all over the label with white reverse copy, the results look spectacular (avoid very fine type faces).

ITEM SIZE: 95mmH x 25mmL x 90mmW.
PRINT AREA & LABEL SIZE: SQUARE LABEL 50mmL x 50mmH,
ROUND LABEL 50mm diameter.
MINIMUM QTY: 500 units.

Product code: LL327
Minimum purchase: 500