Catalogue » Personal Corporate Items » Glass Nail File In Case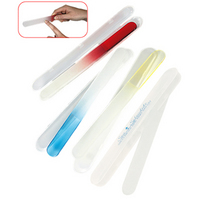 Glass Nail File In Case
Glass Nail File In Case
Glass nail file with handle.
Packed in a clear sleeve then opaque plastic case.
Shapes natural and acrylic nails.
Hygienic and can be washed and sterilised.
Non-eroding filing surface.
1 colour print on plastic case available.
COLOURS: Clear/Red, Clear/Blue, Clear/Yellow, Clear.
ITEM SIZE: CASE - 210mmL x 28mmH x 9mmD, NAIL FILE - 193mmL x 20mmH.
PRINT AREA: CASE - 80mmL x 15mmH.


Product code: LL2511s
Minimum purchase: 250