Catalogue » Desk Items » PVC Mobile Phone / Business Card Holder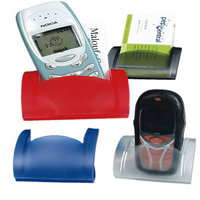 PVC Mobile Phone / Business Card Holder
PVC Mobile Phone / Business Card Holder
Stylish desk item that can be used to hold your mobile phone or business cards on your desk.
Price includes 1 colour 2 position print.
Ideal for mail promotions as posts at standard rate.
COLOURS: Choice or assortment of Transparent Charcoal, Red, Blue & Clear.
PRINT AREA: Front – 55mmL x 25mmH, Back – 40mmL x 20mmH.
ITEM SIZE: Flat – 80mmL x 175mmH (at widest point).

Product code: LL1388s
Minimum purchase: 250