Catalogue » Caps & Visors » E.V.A. Foam Adjustable Visors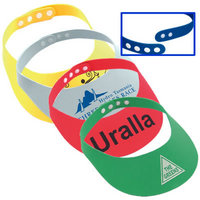 E.V.A. Foam Adjustable Visors
E.V.A. Foam Adjustable Visors
6 adjustable positions, one size fits all.
Multicolour prints ex overseas factory 10-12 weeks – minimum 5,000.
Ideal for children and adults. Soft peak is ideal for contact sports to avoid eye damage to other players. Great at the beach or the pool.
Choose colours to indicate teams for sports events.
COLOURS: Choice or assortment of White, Yellow, Green, Red and Blue.
PRINT AREA: 130mmL x 50mmH. (Other print areas may work, submit design for acceptance).


Product code: LL1822
Minimum purchase: 250