Catalogue » Environmental - Green Products » Biopot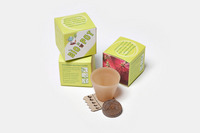 Biopot
"Show you care for the environment – all you need are a few drops of water and a little sunshine!"
The Biopot is an exciting new product from Seedsticks. It captures the imagination with an intimate and physical demonstration of a single small pot with seed and growing material.
Each pack comes with a seed of your choice from our extensive collection, which in many cases is complimentary to a company name, occasion or specific product.
Its shape is a simple, yet eye-catching cube that can be branded with a company logo and catchphrase.
The Biopot is made from a derivative of corn
starch which will breakdown when composted. All print is vegetable / soy based and printed on 100% recycled board. The compressed pellet is your soiling agent.
Product code: Biopot
Minimum purchase: 1000