Catalogue » Luggage Tags » Turbo Luggage Tags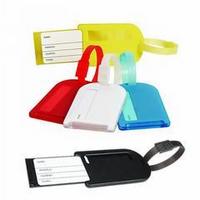 Turbo Luggage Tags
LL006s Turbo Luggage Tags
Pull out flap with white write on address panel, hides owners address and personal details yet allows name to be read while on luggage.
Security strap.

COLOURS: Choice of Black, Clear, Transparent Red, Transparent Yellow and Transparent Blue cases.
PRINT AREA: FRONT – 60mmL x 40mmH, BACK – 60mmL x 20mmH.
ITEM SIZE: Extended - 140mmL x 55mmH, Closed - 85mmL x 55mmH x 5mmD (w/o strap).

Product code: LL006s
Minimum purchase: 250